Andrew´s kiln has a Bourry firebox with a long, slightly inclined, throat leading to a rear chamber. Sidestoking ports along the sides encourage heavy natural ash effects in the throat.
The Bourry firebox is at the far left of the image at right. Pots are loaded into the throat from the top, which is roofed with cast slabs. The top of the chimney is 4.5 m (14.6 ft) above a single supporting layer of concrete bricks.
Materials Assorted dense firebricks were used internally, mostly old Rylance, some Bexhill commons from previous kiln. (Until it closed down Bexhill Brickworks near Lismore was popular with North Coast potters because their common brick was as good as a firebrick but much cheaper.) High alumina firebricks were used in the firebox and throat arches. The outside bricks and those used in the upper part of the chimney are old house bricks.
Firing this kiln To read Andrew´s answers to questions we asked click here.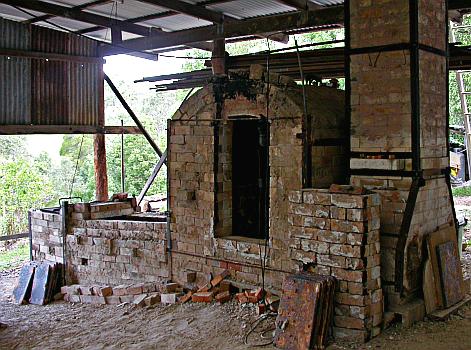 The images below are links to larger photos