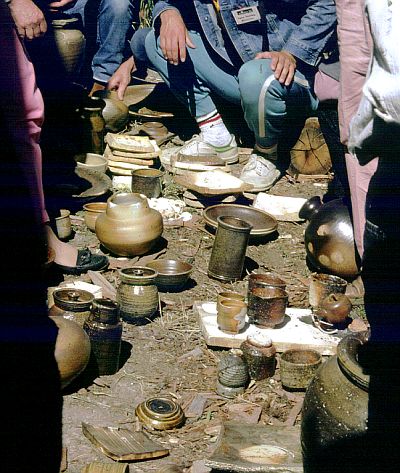 These are some of the pots from the first anagama kiln opening that Carol and I ever saw. The occasion was the first Australian woodfire conference in Victoria in 1986. We were there in our capacity as woodfire salt glaze potters, and had no idea until then that some Australian potters were stoking kilns for days on end to achieve purely natural ash effects. We were not impressed by these results, which seemed to us to be largely plain brown, and resolved never to be tempted to do anything as ridiculous as THAT.
In the following years, and at succeeding woodfire conferences, we saw more anagama openings. Some produced good work, but the preponderence of brown pots was usually there. However, in the exhibitions accompanying the conferences we saw really lovely work, and gradually we were persuaded that it was essential to give it a go. We were also aware that anagama firers frequently used a mixture of woods, and thought that we might have more success by firing with just one or two species of wood in each firing.
Nearly a decade later we had built and had the first firing of our own anagama. We were disappointed, but not surprised, to see once more an outbreak of the dreaded mid-browns, as you can see from the image below.