Large version of the single bourry box kiln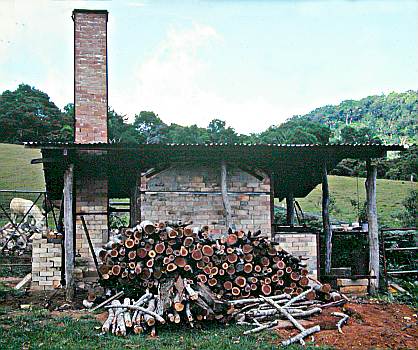 This kiln home | SideStoke home
This is a dense firebrick salt kiln based on the single bourry box kiln plan, but it has been scaled up considerably to 107 cubic feet chamber volume. The critical proportions are A=10.3, B=5.8, C=16, D=23.8, where E=100 and V=9% of W.
Although we used it for a number of years there was always a temperature range from top front to bottom back of about 4 cones.
A better arrangement of exit flues, a slower firing schedule, more insulation, or improved user skill may have evened things out a bit, but we decided that it was always going to be a battle and became disenchanted with the design at this size. I decided to bring the chimney around to this side (in the photo), and add another firebox on the left, but did not get around to doing that.