| | |
| --- | --- |
| | Plans for the double bourry box kiln |
The kiln is a double bourry box design adapted from a kiln of Micki Schloessingk's. It has a packing volume of 15 to 18 cubic feet, depending on how pots overhang the shelves. The kiln could be scaled up, but scaling down might not be successful, as wood needs a bit of room for combustion. As shown it has no insulation except on the arch, and is made from dense firebricks so as to be suitable for salting. About 1,000 bricks were used for the basic box, and extra lower quality bricks were used for parts of the chimney and under the floor. Arch bricks are also needed.
The kiln fires very evenly to cone 10 in 15 to 20 hours, using Australian hardwoods.
Note that the plans do not specify the metal bracing. Without the bracing the arch at the top of the kiln, and the arch under the floor, will collapse. See the photos (to be added later) to see where the bracing goes.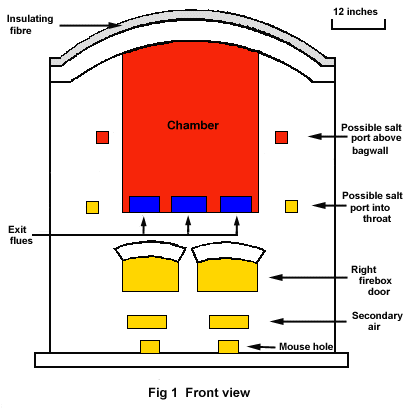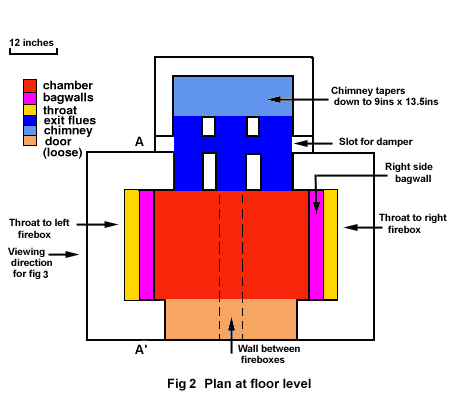 The damper position in fig 2 is very awkward in use. It would probably be better to use a damper as shown in the single bourry box plan, despite the fact that the damper would then be a bit too high off the ground for easy access.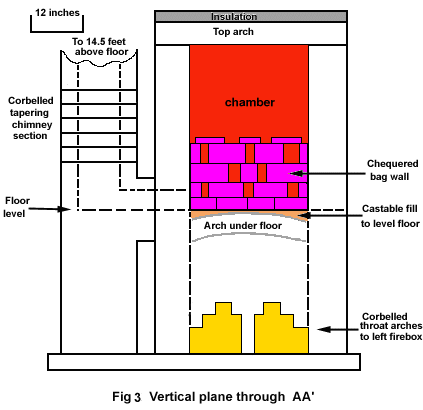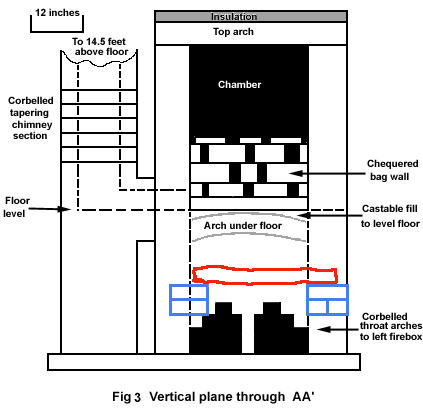 The blue rectangles show the construction of the hobs in the firebox behind the plane through AA', and the red object represents a burning log. The hob bricks on the left are embedded in the kiln wall, and the ones on the right are at the bottom of the firebox door. All of the bricks directly below the firebox doors are loose - they have to be removed to clean out the fireboxes between firings.