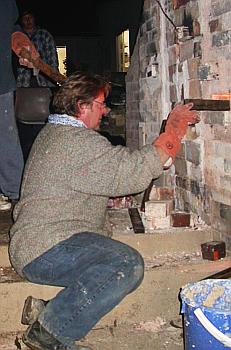 Side stoking the double chamber kiln
Because of its history and geographical location Paul feels that The Sturt Pottery is a natural focus for Australian potters, particularly those interested in woodfiring. He encourages passing potters to call in and see the place.
To stay in Sturt Cottage, as Carol and I did, is to be surrounded by the work of past Sturt Potters and more recent visiting potters. The wardrobe in the room where we slept contained shelves of pots made by Svend Bayer, we passed a large Ian Jones storage jar on the way to the kitchen, and various shelves and glass cases contained a parade of significent pots. We left a few artifacts of our own of a less distinguised nature: a glass coffee maker, a set of car keys, items of clothing....